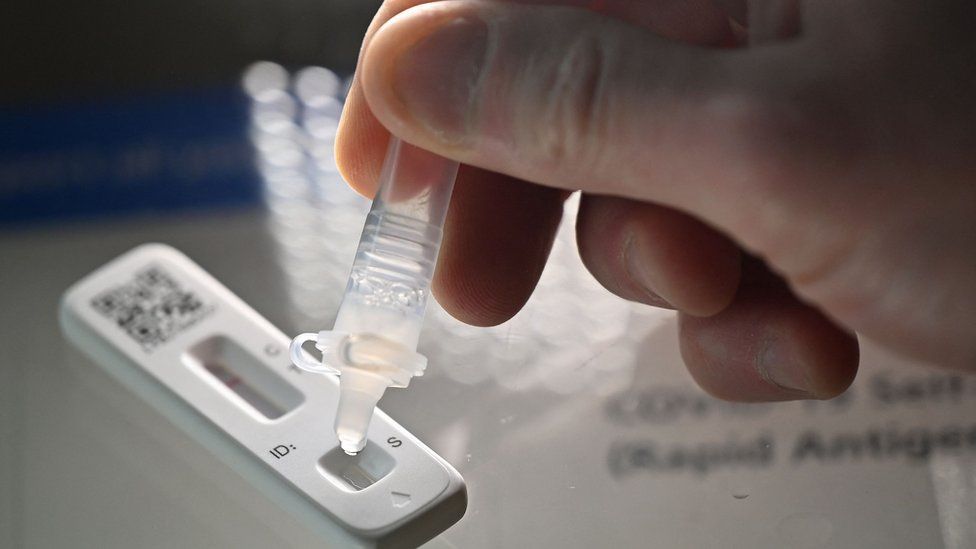 Free lateral flow tests are no longer available to most people in Northern Ireland.
While the scheme ended in the rest of the UK in May, Stormont's Department of Health retained the measure.
Staff within the health service and people eligible for new Covid treatments will still be able to access the free tests.
The department said the move was proportionate as rates of infection continue to fall.
The Office for National Statistics suggests that as of 8 August, about one in 50 people in Northern Ireland have had Covid.
That compares to about one in 17 earlier in the summer.
Dr Joanne McClean, associate deputy chief medical officer with the Department of Health, said people with symptoms or who have tested positive with leftover tests are still being advised to isolate for five days.
"Our advice has moved away from something that's focused on Covid towards something that's focused on other respiratory viruses as well," she said.
"As we move into autumn we do expect other respiratory viruses to start to re-emerge, we expect to see flu coming back, we expect things like RSV [respiratory syncytial virus].
"So it doesn't really matter what the virus is, if you're sick, you've got a temperature, you don't feel well enough to work, please stay at home and stay away from people who are vulnerable."
Dr McClean said the situation would be kept under constant review.
"If things start to change we will keep the reintroduction of everything – including free testing – under consideration."