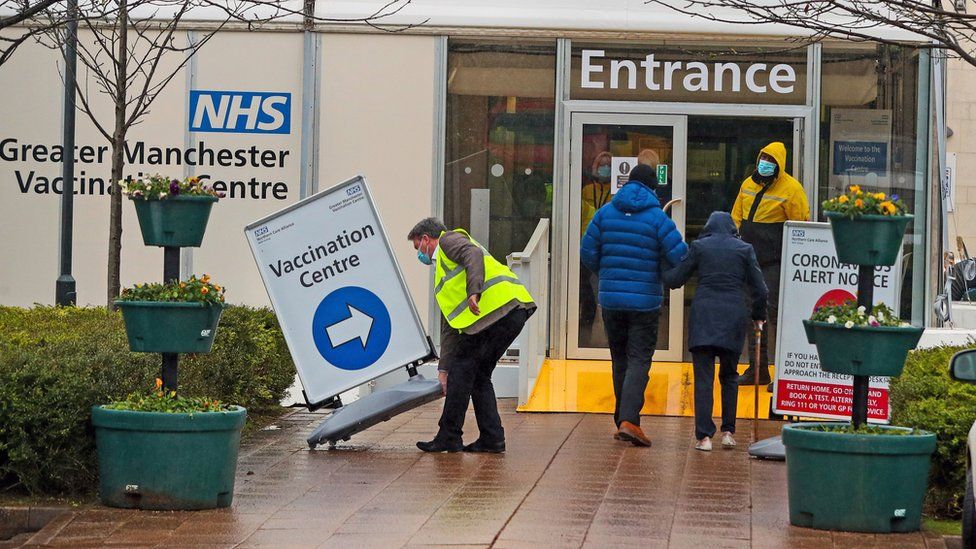 Coronavirus vaccines and tests are being stepped up in areas of north-west England to try to deal with the rise in cases of the Delta variant.
Similar tactics to those successfully used in Bolton will be implemented across the whole of Greater Manchester and Lancashire.
But local leaders have asked for extra jabs to vaccinate everyone even faster.
It comes as debate continues about whether England's next lockdown easing will go ahead as planned on 21 June.
There is less than a week until the government is due to announce its decision about the reopening date.
At the weekend, Health Secretary Matt Hancock said the Delta variant – first discovered in India – was 40% more transmissible than the previously-dominant Alpha variant, first discovered in Kent.
After Covid hotspot Bolton saw a drop in infection rates through a vaccine push and extra testing, the government is now doing the same elsewhere in the region where cases are rising.
But the Mayor of Greater Manchester, Andy Burnham, has called on the government to go further and said vaccine supplies should be given to the area earlier than planned.
"The need is now," he told BBC Breakfast. "It is spreading again in places like this, so the vaccination programme can have the most impact right now."
"It's not about asking for more supplies than we are entitled to, it's about bringing forward our supplies so we can make a bigger difference," he added.
Communities Secretary Robert Jenrick said the government would continue to follow the Joint Committee on Vaccination and Immunisation's advice, with the vaccine programme based on age rather than geography.
He said there was a "significant rise" in Covid cases and the government was doing things to help people get vaccinated as quickly as possible in the region, including using the military for logistics and vaccine buses.
Across England, there was a surge in demand for vaccines on Tuesday morning as people aged 25 to 29 were invited to book jabs, NHS England said.
It was a "Glastonbury-style rush for appointments", said NHS England boss Sir Simon Stevens – with more than 1,600 jabs being booked every minute.



It was always expected cases would rise at this stage – allowing indoor mixing is the move that allows the virus to spread most easily.
But what is concerning government scientists is how quickly cases are going up – and how that has begun to translate into hospital admissions.
The increase in hospital admissions is only really apparent in the north-west so far – more than a third of admissions since the start of June have been in that region.
The hope was the vaccination programme would lead to a slower increase in infections and hospital admissions would be flatter. But the Delta variant appears to have complicated matters – and so the alarm bells are beginning to ring.
But it is still early days. There is hope this rise could tail off – given the immunity that has built up in the population – and what has been seen in the north-west does not translate to other parts of the country.
As painful as it is, the message from scientists is that a delay in fully opening up allows more time to gather data and understand what is happening and to vaccinate more.
A slowing of the progress on the roadmap – rather than the ending of it.


Mr Burnham urged people to take up their second Covid jab, as he said it doubled the protection against the Delta variant, while Mr Jenrick said the second dose was "very important".
Lancashire's public health director Dr Sakthi Karunanithi told BBC Breakfast the proportion of people double-vaccinated could vary from 20% to 70% depending on the area.
He said the focus locally was to make testing become "part of our normal routine", as well as "bringing vaccines closer to people" through walk-in centres and pop-up clinics.
Greater Manchester and Lancashire accounts for 90% of the areas with the highest infection rates in England, according to last week's data.
People in those areas are also being advised to meet outside rather than inside and avoid travelling in and out of affected areas.
Local health directors can also reintroduce face coverings in school communal areas if they want to.
Although the government is issuing guidance "to ask people to conduct themselves sensibly" in Greater Manchester and Lancashire, Mr Jenrick told BBC Radio 4's Today programme there was no plan to introduce local lockdowns, saying: "We don't have any plan to return to the regional or the tiered approach that we saw last autumn."
Mr Burnham said that while people did not have to cancel their plans, they should be sensible and take precautions, such as socialising outside where possible and minimising travel.
21 June 'goalposts moving'
The next big date of lockdown easing in England is scheduled for 21 June. It would see all remaining rules lifted, meaning an end to mask wearing and working from home guidance, nightclubs reopening and no limits on numbers at weddings, concerts and other large events.
The paper cites a Whitehall source saying Mr Sunak was more concerned that when rules are lifted, it will be irreversible.
A source in the Treasury pointed out to the BBC that the government's support packages for workers – such as the furlough scheme – already extended beyond the June date in case there needed to be a delay.
But the Huff Post UK reported earlier that Cabinet Office minister Michael Gove had told colleagues that if he were a betting man, he would bet on a relaxation of rules on 21 June.
The government has repeatedly said it would look carefully at the data before it came to a final decision on 14 June.
Conservative MP Sir Charles Walker, a lockdown sceptic, has warned there will be a "huge wave of disappointment" if the country did not open up on 21 June.
He told BBC Newsnight: "The delay could be two weeks, a month, but I think the real issue here is if we can't open up the economy at the height of summer then I think we are facing the very real prospect of more forced lockdowns in the autumn – I just don't see how we can avoid that.
"The goalposts – as we've always said, it's a well-worn cliche – are moving."
On Tuesday, another 6,048 new cases in the UK were announced, and a further 13 deaths. More than 53% of adults have had two vaccine doses, meaning they are fully vaccinated.