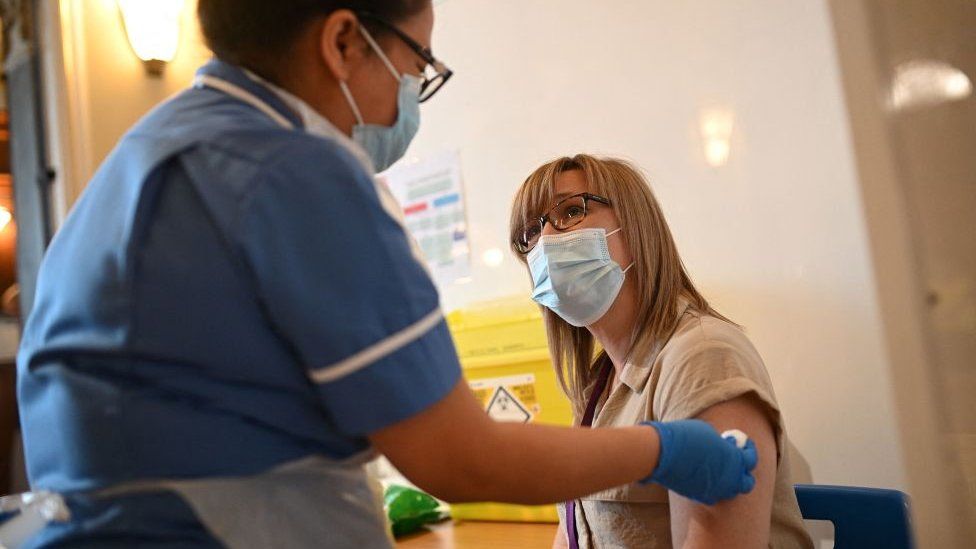 Around a million text messages are being sent to 38 and 39-year-olds in England, inviting them to book an appointment for a Covid vaccine.
Booking will open from 07:00 on Thursday on the NHS website.
Pregnant women will be directed to centres offering Pfizer and Moderna vaccines, NHS England says.
Nearly three-quarters of people in their 40s have had one dose, while a third of all adults have had two doses.
The decision came after a review found younger people had a slightly higher risk of an extremely rare blood clot after receiving a first dose of the AZ vaccine.
The Joint Committee on Vaccination and Immunisation (JCVI) said adults aged 18-39 could be offered an alternative "if available, and if it does not cause delays in having the vaccine".
There is currently a lack of data on the AstraZeneca vaccine in pregnancy – but this could change in the future.
Health Secretary Matt Hancock said: "I urge everybody to get the vaccine as soon as they are eligible to protect yourself and your loved ones."
People can book their appointment at a vaccination centre, pharmacy or GP site available through the national booking service.
Text invitations will appear as an alert from 'NHSvaccine' and include a link to the NHS website.
Those who cannot go online can call the service on 119 to book a jab.
In Scotland, people aged 40 and over are being vaccinated while, in Wales, some health boards are invited people in their 30s.