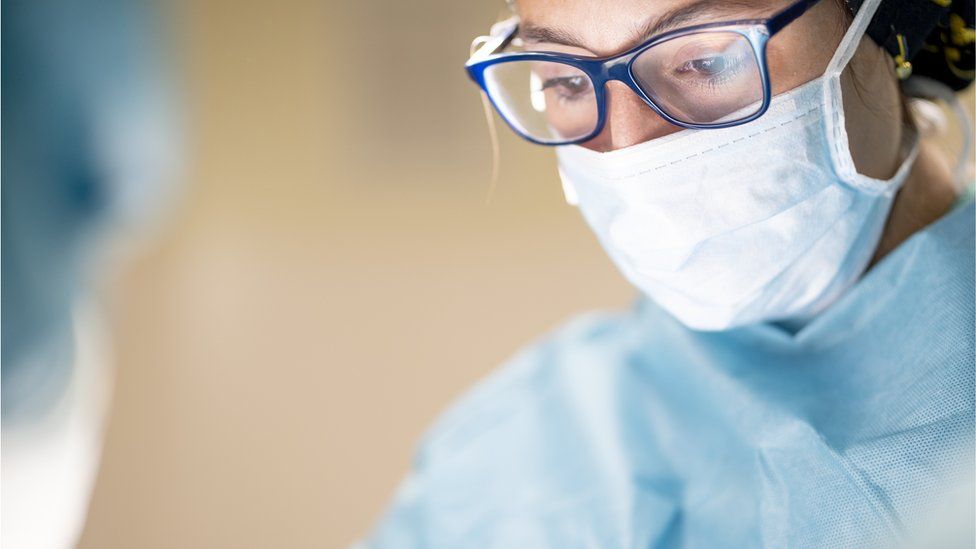 Surgeons are calling for specialist hubs in England to help tackle what they call a "colossal backlog" of non-urgent operations because of Covid-19.
The Royal College of Surgeons (RCS) wants a network of hospital sites focused on routine surgery, such as hip and knee replacements.
The government says it is working "to accelerate the recovery of services".
In March, around five million patients were waiting for surgery – the highest number since modern records began.
More than 436,000 were waiting more than a year, NHS England figures show – compared with just 1,600 before the Covid crisis.
A similar proportion of the population is on waiting lists in Scotland and a higher percentage in Wales and Northern Ireland.
Prof Neil Mortensen, president of the RCS, said the pandemic has had a devastating impact on surgical services – and that it must not be allowed to happen again.
"Surgery must be available on the NHS all year round, not stop and start," he said, adding that a "New Deal for Surgery" was required to help weather future pandemics.
"If a dangerous new variant of COVID-19 takes hold, or another bad flu arrives in the autumn, we cannot allow surgery to grind to a halt again or waiting lists will become insurmountable."
Prof Mortensen said patients and staff had already adapted to changes required because of the pandemic, such as flexible working and outpatient consultations by phone or video link.
He added that politicians needed to be open to change and accept that services available at their nearest hospital might not be the same as before.




The RCS says there should be around 40 centres based in existing NHS buildings to carry out non-urgent surgery.
The idea is to reduce the risk of infections spreading from other parts of hospitals.
It is hoped that by bringing specialist teams together under one roof, there would be greater efficiency and better use of operating theatres.
Patients might need to travel further from their local hospitals, but the RCS says its own polling suggests most would support the idea if it reduced waiting times.
It wants to see an extra £1bn a year of government funding and a longer-term commitment to train more staff.
A Department of Health and Social Care spokesman said: "We have backed the NHS at every point in the pandemic, safeguarding urgent treatment such as cancer and emergency care, while protecting the NHS to ensure it was not overwhelmed."
He said the government was providing "an extra £7bn for health and care services" this year, and £1bn to tackle backlogs.
"We face an unprecedented challenge and will continue to work closely with the NHS to accelerate the recovery of services so everyone gets the care they need, including £160m to support hospitals to find innovate ways to carry out even more operations and cut waiting lists," he added.
It comes amid growing concern about the Covid-19 variant first identified in India.
Public Health England data shows cases of the variant have risen by 3,535 to 6,959 since last week.