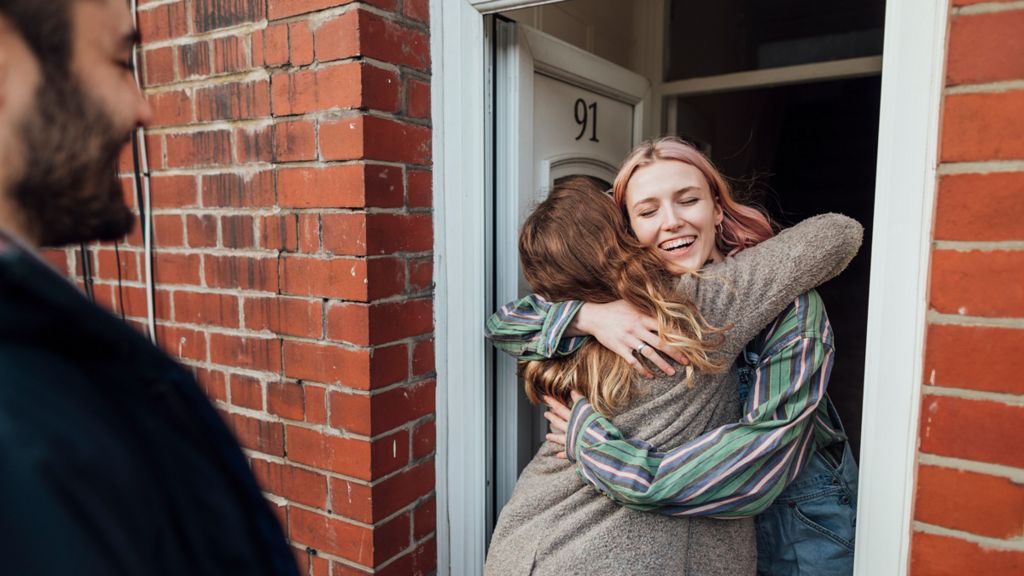 Lockdown rules are easing in England, Wales and most of Scotland on Monday, with pubs and restaurants able to serve customers indoors, and social distancing guidelines relaxed.
But Prime Minister Boris Johnson has warned the India variant means it could be "more difficult" to lift England's remaining restrictions in June.
How is lockdown changing in England on 17 May?
Social distancing guidance is also changing. Contact with close family and friends is described as a matter of personal judgement, but people are asked to remain cautious around close contact, like hugging.
Leisure and entertainment
Pubs, bars, cafes and restaurants will be allowed to serve customers indoors
Indoor entertainment such as museums, cinemas and children's play areas can open
Theatres, concert halls, conference centres and sports stadiums can all reopen
Organised adult sports and exercise classes can restart indoors
Steam rooms and saunas may reopen
Hotels, hostels and B&Bs can reopen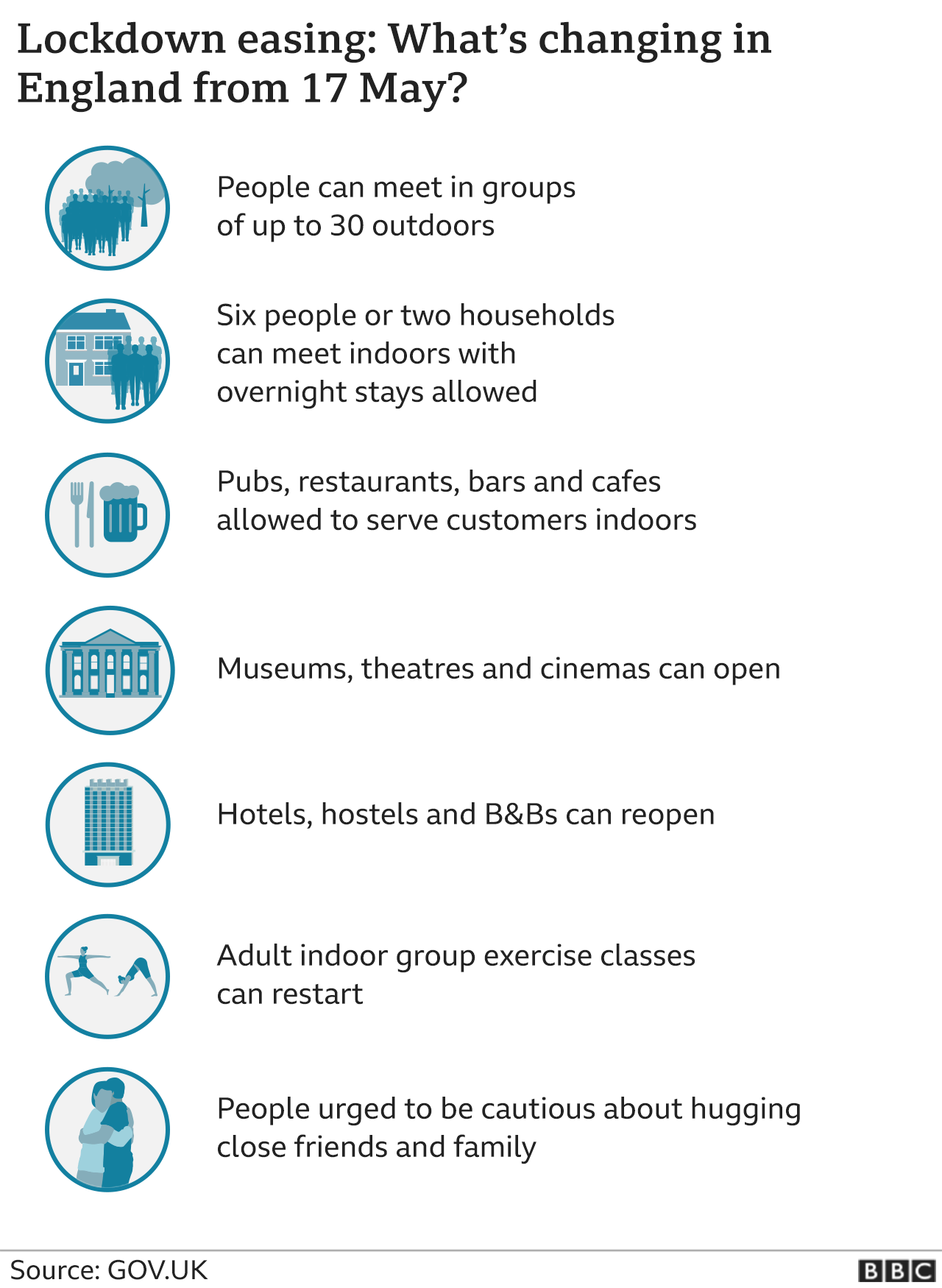 Face coverings no longer recommended for pupils in secondary schools
All remaining university students eligible to return to in-person teaching
Commenting on outbreaks of the India variant, the PM said it "could pose a serious disruption to our progress and could make it more difficult to move to step four in June".
He said: "I must stress that we will do whatever it takes to keep the public safe."
All legal limits on social contact will be removed
Nightclubs will be allowed to reopen
How is lockdown changing in Scotland on 17 May?
Up to six people from no more than three households can socialise indoors in a private home
You do not need to physically distance from family and friends in a private home
Up to six people from three households can meet in an indoor public place (such as a bar)
Up to eight people from eight households can meet anywhere outdoors
Children under the age of 12 are not included in the total number of people – but they are counted towards the number of different households
Hospitality venues can serve alcohol indoors until 22:30
Entertainment venues such as cinemas, theatres and bingo halls will reopen
Outdoor adult contact sport and indoor group exercise to restart
Up to 100 allowed to attend indoor events, 250 will be able to attend outdoor events, or 500 with seating
International travel to be allowed, in line with rules in England
Scottish islands – apart from Skye – will be moving to level one restrictions on 17 May (it's hoped the rest of Scotland will follow on 7 June):
Up to eight people from three households to socialise indoors in a public place
A maximum of 12 people from 12 households to socialise outdoors
Hospitality can remain open until 23:00
A maximum of 100 people at weddings, funerals and other life events
Cafes, pubs and restaurants can open indoors – until 20:00 each day, no alcohol can be served, groups of up to six people from two households
Non-essential informal childcare can operate
Non-essential work can take place inside people's homes
Up to 50 people who can attend funerals and wakes
Non-essential travel in and out of these areas is not recommended
No socialising with anyone from outside your household or extended household, inside a private home
Up to six people from a maximum of six households allowed to socialise in outdoor spaces, including private gardens
Up to six people from two households can socialise indoors in a public place such as a café or restaurant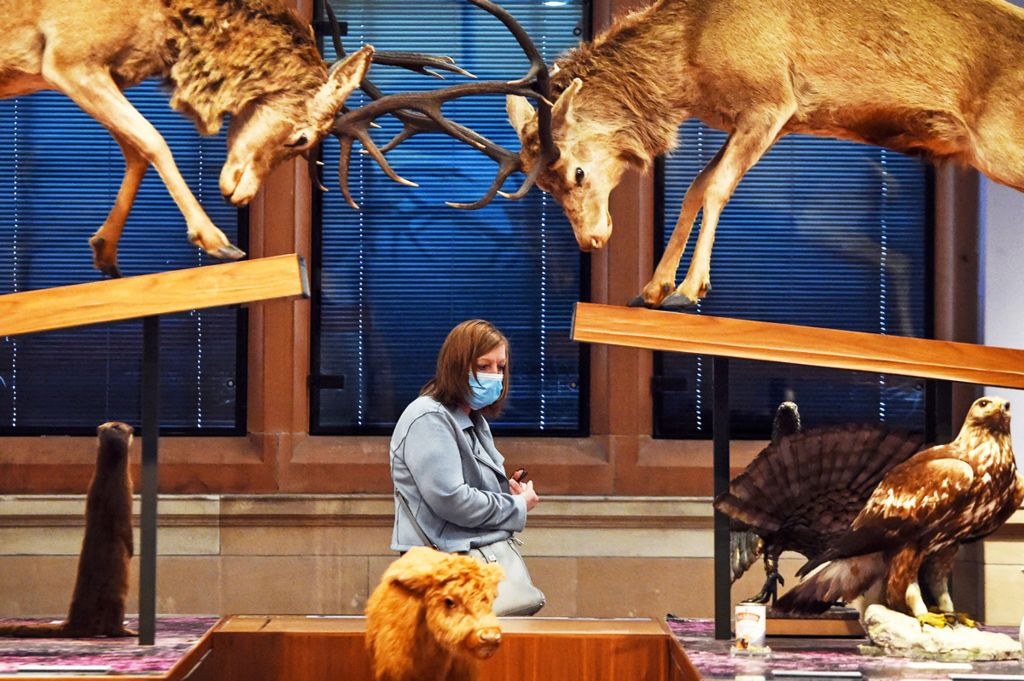 What rules are changing in Wales on 17 May?
Pubs, cafes, bars and restaurants can reopen for indoor service
Customers can meet in groups of up to six people from six households (children under 11 not counted towards the total)
Six people from six households can meet outside
All holiday accommodation can reopen fully
Entertainment venues, including cinemas, bingo halls, indoor-play centres and theatres can re-open
Indoor visitor attractions, including museums and galleries, can reopen
Up to 30 people can take part in organised indoor activities and events, rising to 50 outdoors
International travel can resume, in line with the traffic light system adopted by England and Scotland – although the government advises against non-essential trips abroad
Indoor socialising in private homes is still restricted to extended households, where two households can mix with each other (and no one else).
The government says that if conditions remain positive, its next review will consider:
Further changes to meeting people in private homes
Increasing the number of people who can meet outdoors
Increasing the numbers allowed at organised activities and events
Permitting larger-scale events to take place indoors and outdoors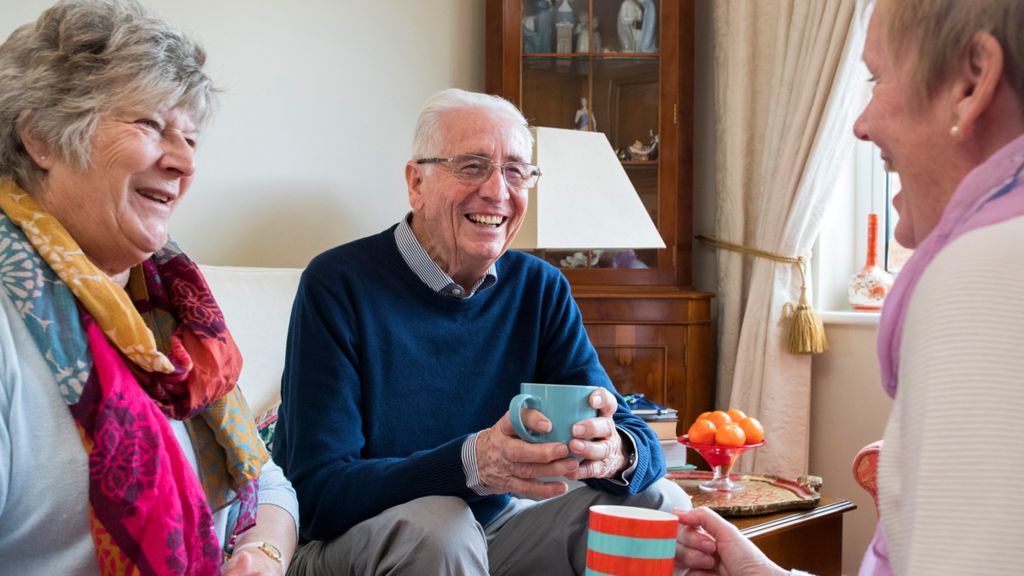 How are lockdown rules changing in Northern Ireland?
It's hoped more restrictions will be lifted on 24 May (subject to review on 20 May), including:
Up to six people from two households allowed to meet in private homes (children under 12 not counted towards total) – overnight stays allowed
If a single household has more than six members they can visit another household, as long as the number indoors does not exceed 10 (including children)
Pubs, bars, cafes and restaurants allowed to open indoors
Maximum of six customers per table from up to six households, or up to 10 people all from the same household
Schools to be allowed to play sports fixtures against each other
Libraries and museums allowed to reopen
"Stay local" message will be removed
Indoor sports training allowed to resume for sports squads
Wedding receptions and post-funeral events allowed
Non-essential travel to be allowed to the rest of the UK, Ireland, the Channel Islands and the Isle of Man
What can you do already across the UK?
There are some things you can do anywhere – although exact rules may differ between nations:




Clarification: An earlier version of this piece said that exercise was only allowed once a day. However, while government guidance said this was what people should do, it did not make exercising more than once against the law.