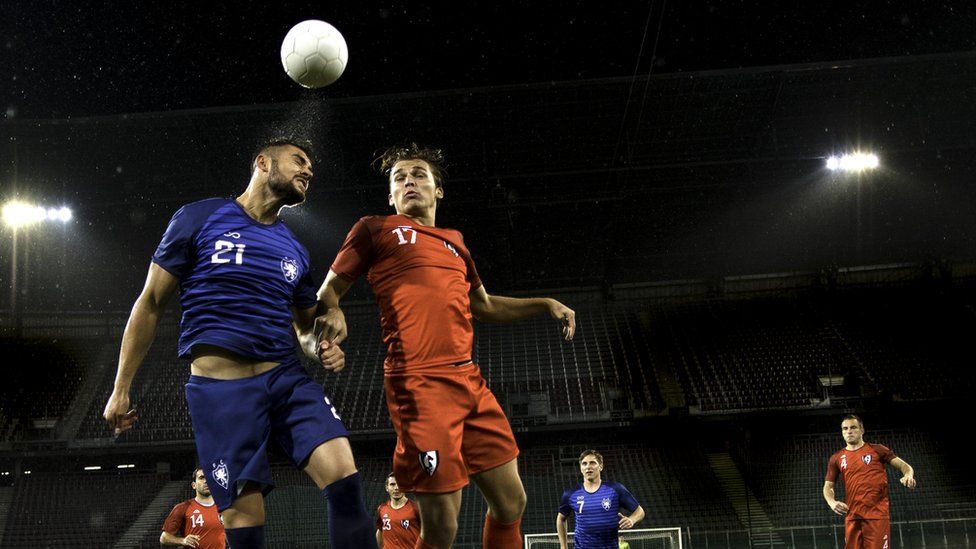 A study of male footballers in Sweden, over many years, found they were one and a half times more likely to develop dementia than the general population.
Nearly 9% developed the condition compared with 6% of other people – but goalkeepers were not at higher risk, the research suggests.
Heading the ball repeatedly has been linked to brain injury, yet there are many causes of dementia.
That research suggested former professional players were three and a half times more likely to die from dementia than people of the same age in the general population.
It prompted football associations across the UK and Europe to introduce guidelines reducing heading among children playing football and adults during training.
It found the footballers had:
a raised risk of Alzheimer's disease and other types of dementia
no higher risk of other degenerative brain diseases such as motor neurone disease (MND)
a lower risk of Parkinson's disease
But the goalkeepers, who rarely head the ball, did not develop dementia as often as the outfield players.
It has been suggested that repeatedly heading the ball causes mild brain trauma, such as concussion, and leads to more cases of dementia in old age.
"It could be that the difference in neurodegenerative-disease risk between these two types of players supports this theory," lead study author Dr Peter Ueda, from the Karolinska Institute, says.
But many unanswered questions remain.
A head injury is just one of a range of factors that raise the risk of dementia – others include:
smoking
depression
high alcohol consumption
inactivity and obesity
high blood pressure
The older someone is and the genes they inherit also play a huge role.
Dr Sara Imarisio, of Alzheimer's Research UK, said there was "still more to do to fully understand exactly what's driving this increased risk".
"While heading the ball could be a contributing factor, it's still possible that other aspects of players' lives, on or off the pitch, may be a factor too," she said.
The researchers admit they did not have access to detailed lifestyle information for the study, nor data on how many head injuries the footballers experienced.
Most of the players affected by dementia played high-level football during the 1950s and 60s, when footballs were heavier and made of leather.
The risk for today's footballers, including female elite players, youth players and amateur players, is unclear – but those studied were fitter and healthier than the general population, which could help protect them against some diseases.
It could be the potential risks from head impacts "are offset by having good physical fitness", study author Björn Pasternak says, which may also explain the lower Parkinson's risk.
Professor Tara Spires-Jones, from the University of Edinburgh, said there was a "large body of evidence that exercise in the general population decreases dementia risk".
"My take-home message is protect your brain by both exercising and avoiding head injury and impacts," she said.
There are many types of dementia, with Alzheimer's the most common. Symptoms worsen over time and include memory loss, confusion, problems with language and behaviour changes.
About 900,000 people in the UK and 57 million worldwide have dementia, with most aged over 65, and those figures are expected to rise sharply in the coming years.
Related Internet Links
The BBC is not responsible for the content of external sites.