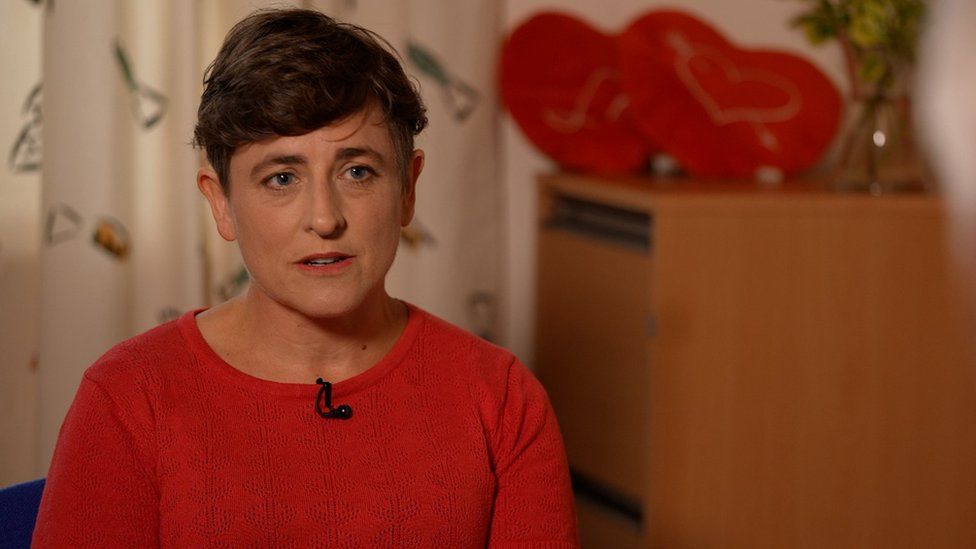 Health inspectors considered shutting down a maternity unit earlier this year over safety concerns.
The Care Quality Commission instead called for "immediate improvements" following a visit to the William Harvey hospital in Ashford, Kent.
Helen Gittos, whose newborn daughter died in the care of the East Kent Hospitals Trust, said there were "fundamental" problems at the trust.
The trust's chief executive has apologised for its service.
The inspection of East Kent's William Harvey hospital laid bare multiple instances of inadequate practices at the unit, including staff failing to wash their hands after each patient, and life-saving equipment not being in the right place.
Days after the visit, the watchdog raised safety concerns and threatened the trust with enforcement action to ensure patients are protected.
Ms Gittos, whose baby Harriet was born at the East Kent trust's Queen Elizabeth the Queen Mother Hospital (QEQM) in 2014 and died eight days later, said: "When my daughter Harriet was born, the then head of midwifery was so concerned about safety that she thought that the William Harvey in particular should be closed down."
She told BBC Radio 4's Today programme: "Here we are, almost nine years later, in a similar kind of situation. What has been happening has not worked.
"I keep being surprised at how possible it is to keep being shocked about all of this, but I am shocked, that under so much scrutiny, and with so much external help, it's still the case that so much is not right.
"The problems that are revealed are so fundamental that we have to do things differently."
Ms Gittos said: "We've had so many reassurances for so long that until we can see meaningful change coming from them, it's hard to be reassured, however much I would like to be."
The inspectors' key findings included:
At the William Harvey hospital, inspectors found bloodstains on toilets
In day care and triage, inspectors "routinely" saw staff did not always clean their hands or use aprons and gloves while delivering care
Resuscitaires were not available in the right place, nor were they cleaned and checked regularly
Staff at the hospital did not always ensure a second opinion was sought
Staff morale was low across both hospitals
At The QEQM, equality and diversity were not always promoted
The CQC considered closing maternity care at the hospital, given the level of concern.
However, the trust promised to make immediate improvements to care and the CQC ultimately decided that weekly monitoring of its services would suffice.
The overall CQC rating for maternity services at both the William Harvey and The QEQM in Margate has dropped from 'requires improvement' to 'inadequate' following the inspection.
Deanna Westwood, the CQC's director of operations south, said the watchdog has now used "urgent enforcement powers" to "require immediate improvements" at the trust.
The CQC highlighted particular concerns around the use of resuscitation equipment.
"Babies needing emergency resuscitation were taken to a resuscitative device – however, in some cases, these were outside the labour room and in the corridor," Ms Westwood said.
"This could potentially result in delays in vital care and treatment for newborns, as well as separation from the mother and an increase in the potential for babies to be mis-identified."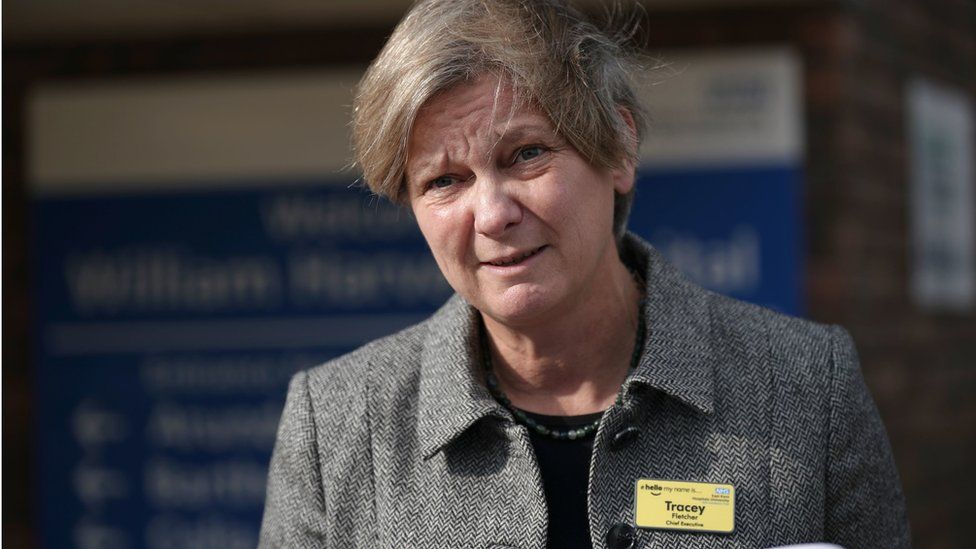 Tracey Fletcher, East Kent Hospitals trust chief executive, said: "I am sorry that despite the commitment and hard work of our staff, when they inspected in January, the CQC found that the trust was not consistently providing the standards of maternity care women and families should expect."
She said the trust has since increased doctor staffing in the triage service at William Harvey. The trust also said it has ensured better access to emergency equipment and improved cleaning.
Ms Fletcher added: "We recognise that, despite the changes that have been made to the service so far, there is a lot more to do to ensure we are consistently providing high standards of care for every family, every time."
Niall Dickson, chair of the trust, said: "This is a sobering and highly critical report."
He told the BBC's Today programme: "We knew that some of this would take time, but this report underlines both how much more we need to do, but also frankly we need to concentrate on the basics.
"There's a new director of midwifery and her deputy, who have both come from outstanding trusts, and I know their focus is on getting those basics right and getting those basics in place."
"The inspectors were able to see lapses during the time that they were there."
He said: "A lot of the report refers to the inadequate facilities that we have for our mothers and their families.
"Our labour suites are far too small. We have to move the babies, in certain circumstances out of the labour suites, and that is another challenge that is absolutely recognised in the CQC report."
Mr Dickson said: "We recognise there are long-term things we have to do, to change attitudes, to make sure that all our staff feel involved.
"We also need to deal with those immediate issues which CQC have identified, and I hope CQC will come back, maybe before the end of the year, and look again and see that we've actually taken that action, so that mothers and others can feel that level of reassurance."
October's independent review, which was chaired by Dr Bill Kirkup CBE, examined an 11-year period from 2009 at the two hospitals.
It found that of the 202 cases that were examined, up to 45 babies might have survived if they had received better care from the trust.
The review uncovered a "clear pattern" of "sub-optimal" care that led to significant harm, and said families were ignored.
Ms Gittos said: "There ought to be a nine-year-old girl with me, getting ready for school, and I wish there were."


By Mark Norman, health correspondent, BBC South East
It is another awful report from inspectors.
More condemnation of managers and a reminder that the trust doesn't have enough maternity staff or medical staff with the right qualifications, skills, training and experience.
But two things concern me.
This inspection came two months after the publication of Dr Bill Kirkup's report. It begs the question why simple safety changes had not been initiated by senior managers in the weeks following that report.
Secondly, NHS England have had "maternity improvement advisors" supporting the trust for the last four years. It's worrying that with a huge amount of support and scrutiny that these problems still exist and don't appear to be improving.

Have you been affected by any of the issues raised in this story? Share your experiences by emailing haveyoursay@bbc.co.uk.
Please include a contact number if you are willing to speak to a BBC journalist. You can also get in touch in the following ways:
If you are reading this page and can't see the form you will need to visit the mobile version of the BBC website to submit your question or comment or you can email us at HaveYourSay@bbc.co.uk. Please include your name, age and location with any submission.


Related Internet Links
The BBC is not responsible for the content of external sites.