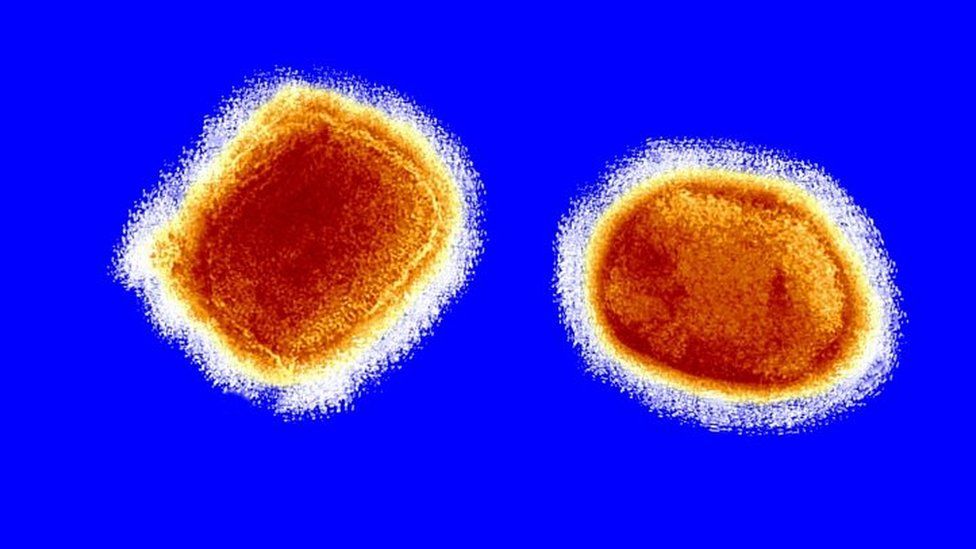 The UK Health Security Agency (UKHSA) is urging people at risk of mpox to get vaccinated, following a rise in the number of cases.
Latest figures show 10 new infections were diagnosed in London between 30 April and 25 May 2023.
Half of those were unvaccinated, and in two cases, those infected had only received one dose of the vaccine that can protect against the disease.
There have been 20 cases recorded overall in the UK this year, so far.
At its peak last year, mpox – previously known as monkeypox – was infecting 350 people per week, with the majority of cases amongst men who have sex with men.
Of the latest 10 cases, five acquired the infection in the UK, four are thought to have acquired it abroad, and one remains under investigation to find the source of the infection.
Health experts are calling for those eligible for a vaccine to book an appointment as soon as possible, as the UK's vaccine roll-out programme is currently due to wind down.
Appointments for one dose of the vaccine will end on 16 June, while those waiting for a second dose will have until 23 July to book an appointment.
Katy Sinka, Head of Sexually Transmitted Infections at UKHSA, said: "Vaccination is key to reducing the severity of symptoms and preventing further transmission. Uptake of first doses has been strong but only around a third of those who have received their first dose have had their second dose so far."
"The programme is coming to an end, so we strongly encourage everyone eligible to please come forward for a vaccination if you haven't yet had one or two doses. Our aim is to eliminate this unpleasant disease from the UK entirely – vaccination and community action have worked very well to significantly reduce case numbers and we can't let our guard down now."


It is caused by the monkeypox virus, a member of the same family of viruses as smallpox, although it is much less severe.
Initial symptoms include fever, headaches, swellings, back pain, aching muscles.
Once the fever breaks a rash can develop, often beginning on the face, then spreading to other parts of the body, most commonly the palms of the hands and soles of the feet.
Anyone with the virus should abstain from sex while they have symptoms, to help prevent passing it on to others.
Vaccines can protect people too.


Sexual Health charity Terrence Higgins Trust (THT) have called for the vaccination programme to be extended.
Ceri Smith, Head of Policy at THT said: "While ten new mpox cases may seem small scale, it's important to react quickly to ensure we don't see another wave. That means ensuring the mpox vaccination programme for gay and bisexual men is extended – the current offer for mpox vaccination is due to be wound down at the end of July.
"It's important to have both doses for maximum protection. Especially as we approach Pride events and other festivals both here in the UK and in Europe, which was a factor in mpox's spread last summer."
Those eligible for the vaccine include gay, bisexual or other men who have sex with men who have multiple sexual partners, participate in group sex or attend sex on premises venues such as gay saunas or fetish venues. Staff who work in these premises are also eligible.