The current pressure on hospital beds is "worse than it was during Covid", according to a senior manager at the Ulster Hospital in Dundonald.
Seaneen Pettigrew works in the hospital's discharge hub and her role is to free up beds by facilitating the discharge of medically-fit patients.
She said they were having difficulty securing care in the community for vulnerable patients leaving hospital.
Ms Pettigrew said demand for carers "is currently outstripping supply".
"We've more patients attending emergency department (ED), we've more patients coming through the hospital and more patients with complex needs who are needing more support on discharge than maybe previously," she said.
BBC News NI was granted access to the hospital's discharge hub this week, as well as its emergency department.
On Wednesday afternoon, 135 patients were in the emergency department, with 50 of those waiting for admission to a ward.
At the same time, there were 67 patients in the hospital who were ready to be discharged into the community, but could not leave because of delays securing onward care.
One patient, who required admission to the hospital, had been waiting nearly 60 hours in the emergency department.
Seven ambulances were also waiting outside with patients onboard.
Andrew Dobbin, a consultant at the Ulster Hospital, warned that patients waiting long periods in emergency departments to be admitted are "going to come to harm".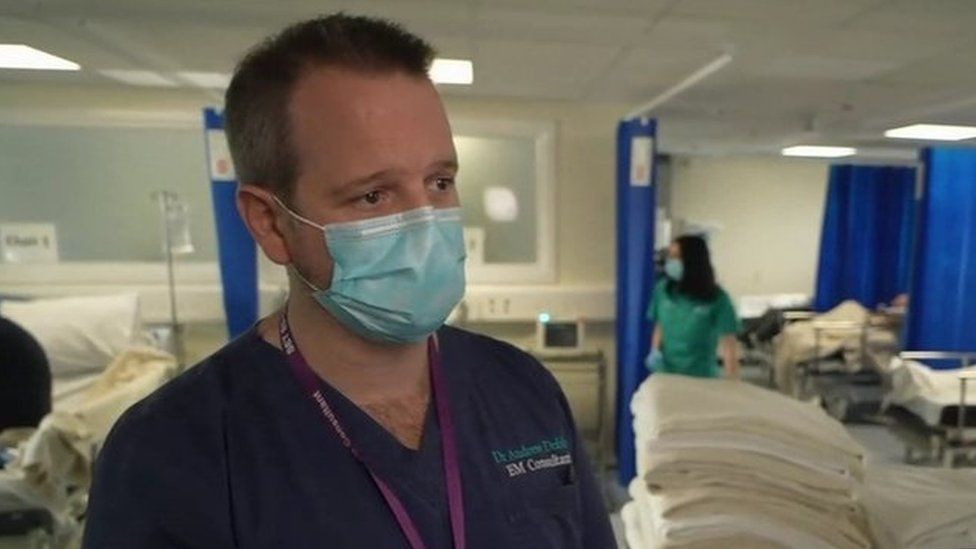 He said there was "almost a one-in-one out-policy" due to delays discharging medically-fit patients.
Dr Dobbin said it had become normal to see 50 patients waiting in the department for admission to wards and for hospital staff to be under "significant pressure".
"We know, as our Royal College of Emergency Medicine has said, that crowding and long waits in emergency departments are directly linked to harm for patients and we know that patients staying here for long periods of time are going to come to harm."
He added there were two reasons why emergency departments were facing "significant problems".
"The first thing is demand has increased and the second problem, which is the main problem at the moment, is that we have a significant number of patients who need to continue their care in hospital that we cannot move through our system to create the capacity to run an efficient, safe, effective emergency department."
'Demand outstripping what's available'
In the hospital's discharge hub a team of nurses, social workers, administrative staff and occupational therapists work seven days a week sourcing suitable placements for patients who are ready to leave hospital.
Ms Pettigrew told BBC News NI that the "picture is worse than it was during Covid" because of the demand.
"The challenges we are having would be in accessing domiciliary care and sourcing appropriate care homes to facilitate patient discharge, and as a result those patients are delayed in hospital awaiting their care package or care home."
Ms Pettigrew said the team at the discharge hub were appealing to patients and their families to work with them.
"Given the challenges we may have to look at an alternative interim bed to go to, to await your package or await your home of choice.
"We know its not ideal, but it frees up the hospital bed for those patients waiting to come in through ED to also get the treatment that your loved one will have had."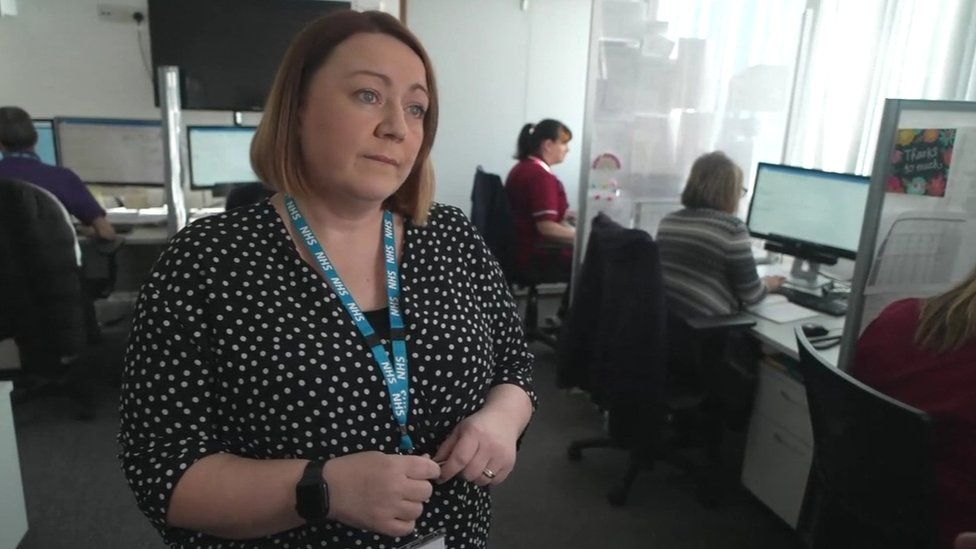 The discharge hub manager said there was a need to increase the number of care workers both within care homes and the domiciliary care sector.
"It is a very complex issue within domiciliary care, the demand for the service is outstripping what's available at the minute.
"And then within our care home sector it is the appropriate care home placements for patients – potentially those who have complex nursing needs, complex behavioural needs. It's trying to source the right placements for those patients," Ms Pettigrew explained.
Increased waiting list numbers
Separately, the number of people waiting for a first appointment with a consultant increased by 20,000 in a year, according to the latest figures from the Department of Health.
More than 375,000 people were waiting to see a specialist at the end of September, up more than 5% from the same time last year.
The Department of Health said its target by March next year is that at least 50% of people should not be waiting any longer than nine weeks for a first outpatient appointment.
The current number of patients waiting longer than nine weeks is 82%, with over half of people on a waiting list for more than a year.
The latest figures also show that almost 124,000 people were waiting to be admitted to hospital for inpatient or day care treatment.
And almost 164,000 patients were still waiting for a diagnostic test at the end of September – up 11% on the same time last year.