If you're always on the go, then you know that having menstrual care products that are convenient to carry is mega important. We have not one, but two different collapsible cups that fit into a carry case about as big as your lip balm.
With one of these menstrual cups in your purse, pocket or backpack, you'll never get caught by surprise again! But what's the difference between Lily Cup One and Lily Cup Compact, and which is right for you?
Lily Cup Compact
What It Is:
Lily Cup Compact was the very first reusable menstrual cup to collapse down flat for easy-carrying.
Who It's For:
If your period deviates from it's "schedule" or you're just not great at keeping track of it, this is a great cup to have on hand. Lily Cup Compact comes in a Size A and Size B (B being ideal for those who have given birth or otherwise have a weaker pelvic floor.
When it comes to flow, Lily Cup Compact is for women with a light to medium amount of menstrual blood per day. Size A (light pink) holds 18 ml and size B (dark pink) holds 23 ml – which is still a higher capacity than a tampon! If you have a heavy flow, you can still use the Compact, but you'll probably just have to empty it a little more often.
Lily Cup One
What It Is:
Lily Cup One has a slimmer bubble design, so it's less of a daunting fit for smaller anatomies. It also has a stiffer rim than any of our other menstrual cups so it's easier to open once inserted.
Who It's For:
This cup was made with newbies in mind. Whether you're new to menstruating or new to cups, it has a few features that make it a bit easier to use.
Even folks who are pros when it comes to popping in a menstrual cup may prefer its unique design, and how easy it is to open. Lily Cup One is our most petite cup, yet it still has an impressive 20 ml capacity (20 ml – or the same as 2 regular tampons).
If you have a very heavy flow, you may need to change it more often than our higher capacity cups (like Lily Cup Classic) but it's so easy to insert, that won't be a problem!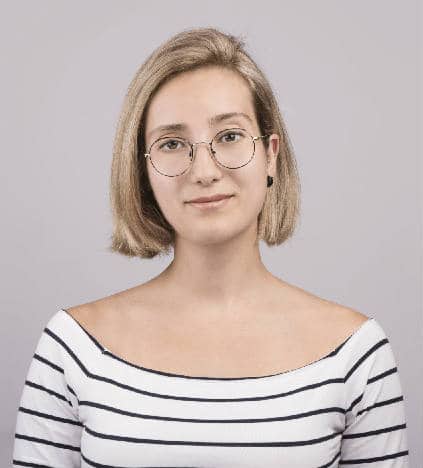 Lane Baumeister is an internationally-based Canadian writer with several years' experience creating educational and entertaining articles that discuss intimate health and sexual well-being. When not waxing profound about menstruation, she devotes herself to enjoying extremely good food and equally bad movies.