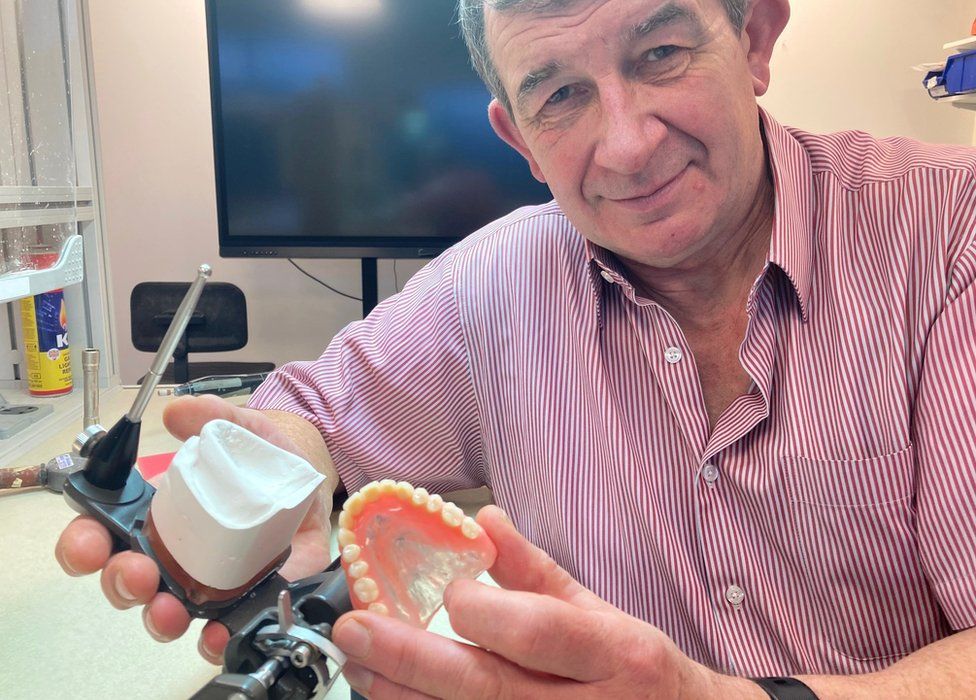 The "sophisticated art" of making dentures is being lost due to a lack of practice because fewer patients now need false teeth, according to leading dentist Prof Angus Walls.
Across the UK as a whole, the number of people over the age of 70 with some natural teeth has increased from 20% to 80% in the space of 40 years.
But despite better oral hygiene and dental technology, Prof Walls says some people will always need dentures.
Effie Cormack, 83, from Aberdour in Fife, is one of those who has had dentures for decades.
"I went to a dentist in Kirkcaldy when I was 21 saying I had sore teeth and she said they should all be taken out. I was shocked," she says.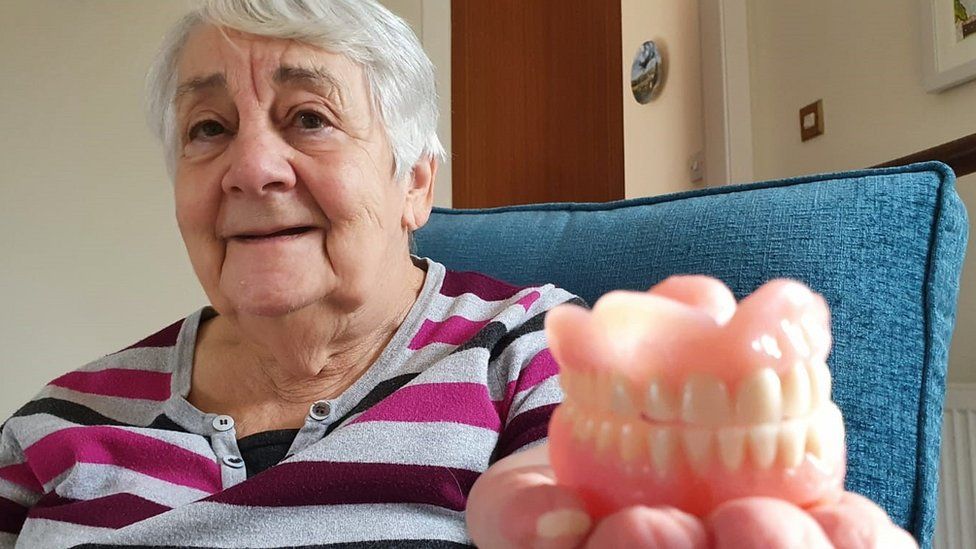 Effie had to take two weeks off work to have her teeth pulled out in two sittings, with no general anaesthetic.
"It was absolutely horrible and I remember there being a lot of blood afterwards. I was quite unwell for a while too," she says.
"It felt strange putting the false teeth in my mouth. I had to put them on top of sore gums.
"It also felt like the teeth were 12 inches long and I felt like I had a great big mouth and that I wasn't speaking properly."
Effie, a retired shoe fitter, says her first set of teeth lasted 30 years, so she has only had two sets.
"Now thinking back I think 'Gosh I could still have my own teeth if they had done something other than pull them out'.
"Why couldn't they have thought of something else?
"On the upside, though, I don't have to go to the dentist to have fillings."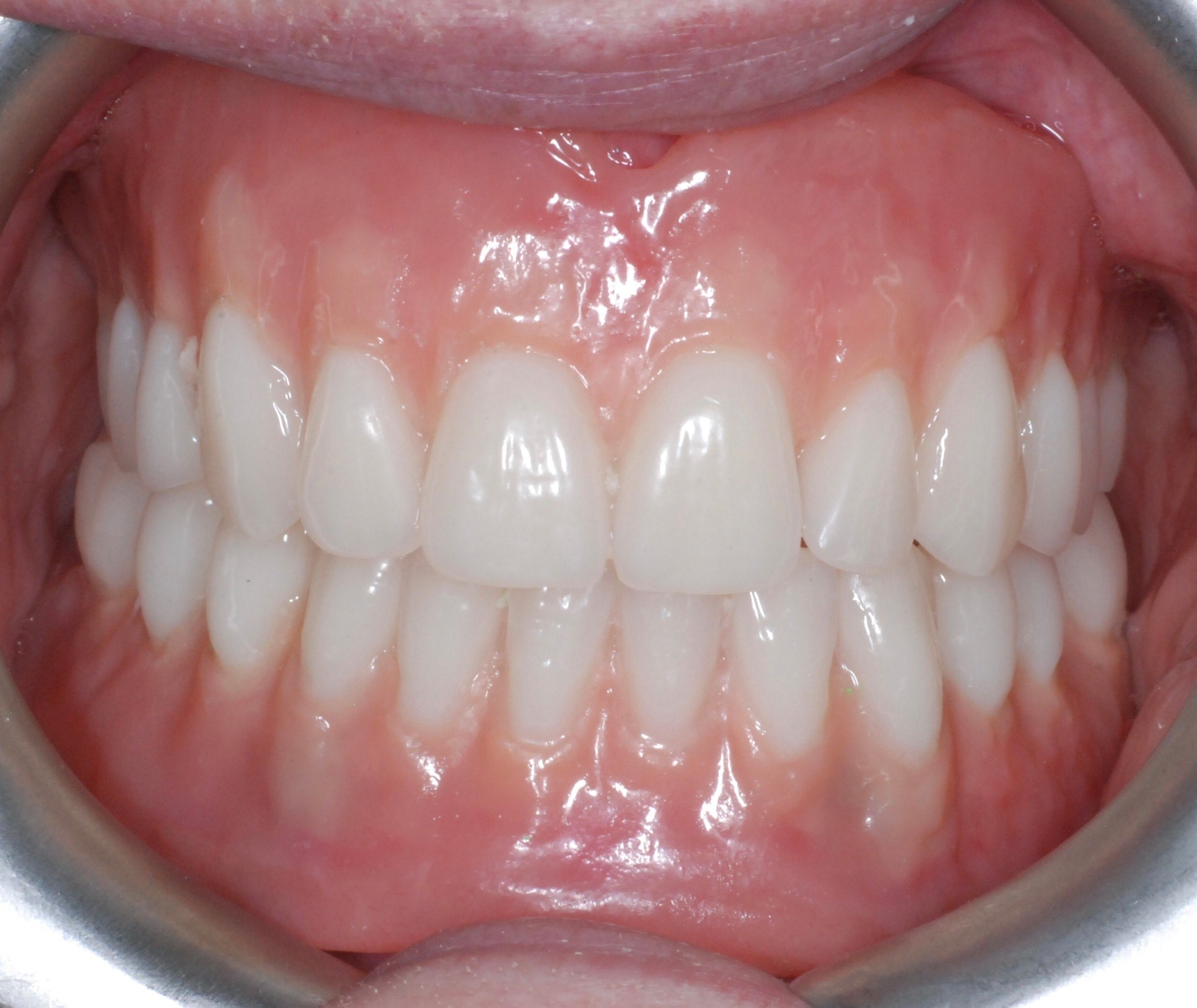 Gosia Ciepiela
I saw at the start of my career young women being brought in by their grandfathers to have all their teeth out as a 21st birthday present.
Prof Walls, NHS Lothian's director of dentistry, says that when NHS dentistry started in 1948 there was a lot of dental disease.
"The most effective way to deal with it was to take people's teeth out," he says.
He adds that several decades ago, there had also been a trend for people to have all their teeth removed in their late teens or early 20s – even when most of them were still healthy.
This was particularly the case for women, so they would not "burden" their future husbands with dental bills.
"I saw at the start of my career young women being brought in by their grandfathers to have all their teeth out as a 21st birthday present," he says.
"In the intervening 40 years, however, wholesale tooth extraction doesn't happen any more.
"Dentistry got better, more reliable and we got better technology."
Fifty years ago, only 11% of over 75-year-olds in Scotland had some natural teeth. That figure had risen to 71% by 2019.
Prof Walls, who is also director of Edinburgh University's Dental Institute, says making dentures is a highly-skilled procedure.
Wax is used to take a mould of the gums, with high precision needed to place the plastic teeth in the exact places to retain the correct bite.
However, Prof Walls says the ability to make dentures is now "significantly worse" than it was at the start of his career.
"All dental students are trained to make dentures but the black art of making them is being lost as they are not getting the practice," he says.
"It's a really sophisticated art to be able to make dentures."
He says the profession needs to find a way of ensuring that people who have the skills are able to continue making dentures.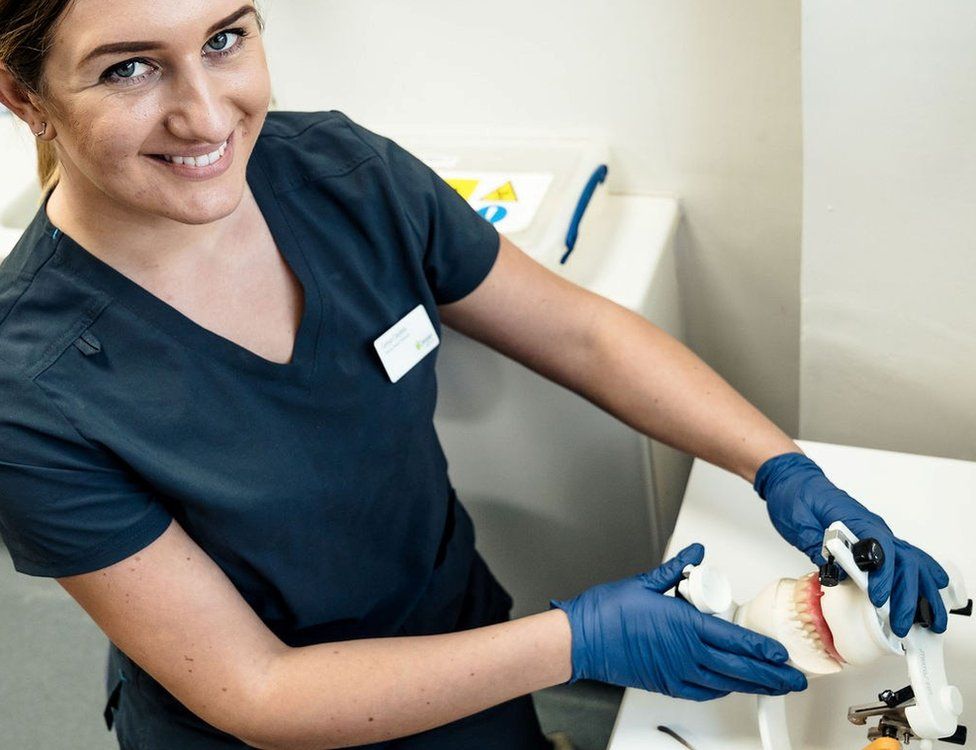 And he adds that more clinical dental technicians – whose sole job is to make false teeth – may be required.
Gosia Ciepiela is one of the 11 clinical dental technicians currently working in Scotland.
Ms Ciepiela, who makes false teeth at Falkirk Dental Care, agrees that there is a need for more clinical technicians to be trained across the country.
"A dentist now has to focus on root canals and fillings, they have very little time for making dentures," the 31-year-old says.
"The skill is getting lost and they are therefore not confident in the delivery of making them.
"To make dentures is very challenging. For dentists to make dentures was a good idea in the past but now they are not getting enough practice, so it needs to be left to the dental clinicians."